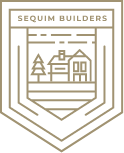 LET'S TRANSFORM YOUR HOME
We help people whose current home fails to meet their daily needs, hobbies, or personal style. By remodeling an existing home, they can experience deep satisfaction gaining more freedom and more joy than they had before. We're here for those not just looking for a remodel; but for those who want to transform their lives.
Cornerstone has been a Sequim home remodel contractor serving Washington State's beautiful North Olympic Peninsula over 40 years.
READY FOR A TRANSFORMATION?